[Event]New free Fashion items in Dragon Awaken for the Easter Event
[2017-04-13]
Who knows what is hidden inside Dragon Awaken's Easter Eggs? Maybe Amber Vouchers, a cool weapon, a Fashion set or a dragon! Join the Easter Event to find out!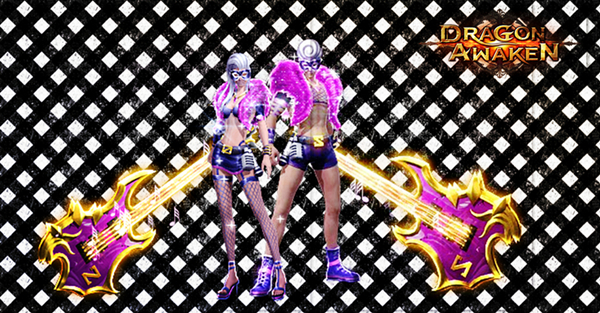 From April 14th to April 18th, players can receive the item Easter Bonus if they log in the game. Players can also receive Easter Bonus if they use Stamina to meet different requirements, finish the daily Plunder Lands quest or hunt enemies in the wild. The Easter Bonus item will be filled randomly with Amber Vouchers, Gold, Mount Stones, Gems and the Fashion items Tuned Guitar, True Rocker and Rocker at Heart.
Description: Smash your enemies with style!
Description: Look like a true rock star.
Description: Your love for rock makes you stronger.
Tuned Guitar is weapon that will allow you to smash your enemies with style. True Rocker is a Fashion item that will make you look like a true rock star. And the badge Rocker at Heart will make your love for rock even stronger! They are part of the Rock'n Roll set, make sure to get them all to be the coolest and strongest rocker in the game.
Don't miss the chance to get these rare items for free!
Moreover, Dragon Awaken will hold more events this Easter that will surprise their fans! For more information about events and gifts, check out Dragon Awaken's official Facebook Fan Page.
Dragon Awaken Official Website: www.dragonawaken.com
Dragon Awaken Official Facebook Fan Page: https://www.facebook.com/Dragon-Awaken-Community-400342230298496/
Proficient City, a branch of Game Hollywood, is an international online game company. They specialize in innovating operations and strive for a perfect balance of content, gameplay and storyline.
Dragon Awaken is a thrilling browser RPG game built around character growth, dungeon exploration and PvP features. In this dangerous fantasy world players are warriors destined to do save the world.
Tame dragons to help in battle
Evolve dragons into Goddesses
Train to be the Faction's Top player
Summon new heroes to enhance your army
Challenge dozens of dungeons
Cooperate with lots of players worldwide
Company: Proficient City Limited
Email: dragonawaken@gamehollywood.com