Heroes
Your Heroes are one of the most important keys of the game, even when you go alone in the battle they still lend you their power, you only have to Assign them as Back Up. And don't forget about other systems like Wings, Relics, Mounts,… they will give you a Stat bonus for all your Heroes and yourself.
Let's see how we can upgrade it:
1. Level Increase the Level of a Hero to make it stronger. You will need Scrolls to do so, and you can find them fighting in the wild or in solo dungeons.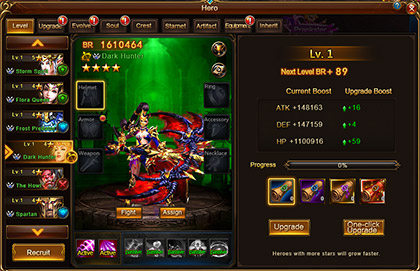 2. Upgrade In Upgrade you will power up your Hero's skills. You can upgrade them using Hero Upgrade stones found in Hero Dungeons or Multi-player Dungeons and also dropped by monsters in the wild. You will not only improve their skills, but also get additional bonuses and a +0.5% power for Back Up.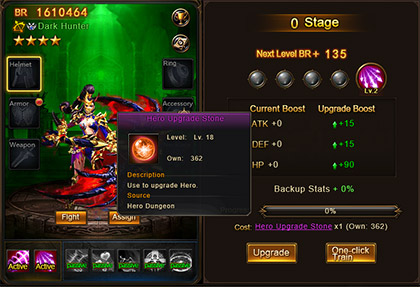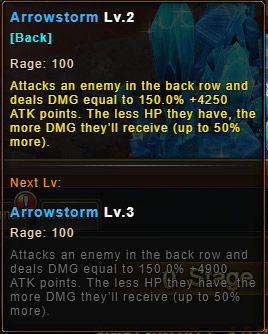 3. Evolve Evolving your Heroes is the most important upgrade you should do. When you Evolve a Hero, new Passive Skills will be unlocked and their ATK, DEF and HP Stats will improve. The Hero Evolve Crystal you need to Evolve your Hero is a very rare item, you can find it as a reward for completing Daily Missions and capturing Drakes in the Wild.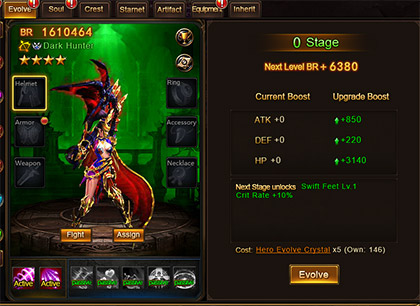 4. Soul In this feature you will be able to choose which Stats do you want to upgrade for each Hero. You want to improve the DEF and HP of your Hero? You want his ATK to de deadly? It's your choice! Click on Refine and watch the Stats change. The more orbs have the same Stat, the more powerful the boost will be. You can lock the Stats so they don't change when you Refine by clicking the space on the left of the Stat.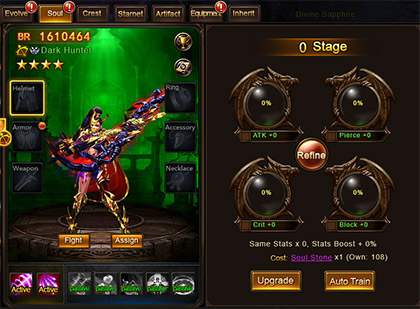 5. Crest Receive items in the Crest dungeon and update Resolve, Retribution, Toughness and Ordeal. You can also Evolve the Crest stage to a get boost for your Hero and improve the DMG rate! It's a very important system for your main damage dealers!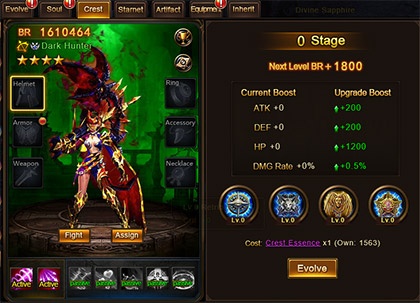 6. Starnet Do you have some spare Essence? Did you receive the Card of a Hero you already have? Don't sell them! In Starnet you can use these items to increase your Hero's Stats. First you will have to activate the feature using a Hero Card of the same Hero, it will give you a new passive skill! Use Essence to light up all the dots in the Starnet and use more Hero Cards to upgrade the Starnet and activate even more skills.
Click Reborn to get back the Essence you invested in Starnet!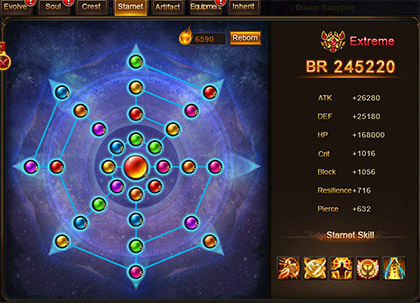 7. Artifact Participate in Coronation (you can find it in Arena) to receive all the materials you need to upgrade your Artifacts. Every Hero has a different Artifact with different bonuses, upgrading it will make your Hero stronger in the Stats they are already good at. And you can receive buffs!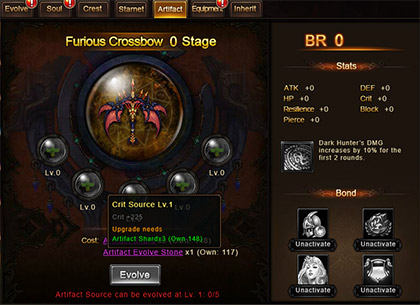 8. Equipment Buy Hero equipment in the Honor shop to make your Heroes stronger! You can find the items you need to upgrade your Hero Equipment in the Ladder event. These are rare items, but will make the difference once you upgrade the Equipment.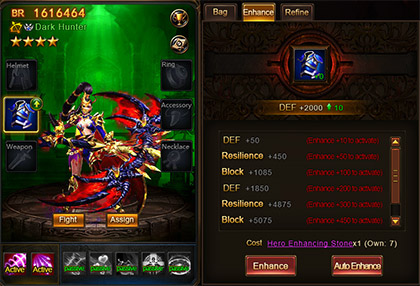 9. Inherit If you obtain a new Hero and you like it more than the one you have invested you materials on, you can always Inherit their progress from one to another! All their Stats will be exchanged from one to another Hero, except Starnet.