Relic
Relics are legendary items with unique properties. Thanks to them, you can make your Heroes special and unique. You can't have two of the same Relic, there's only one and their bonuses and effects are unique. Equip them into your Heroes to give them new abilities!
1. Level You will need Soul Crystals to upgrade the level of your Relic. Doing so will improve all the basic Stats of the Relic!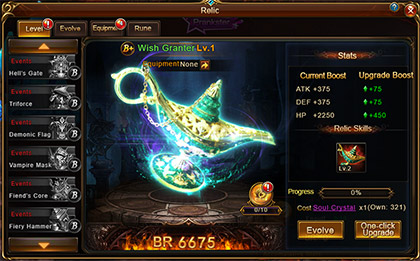 2. Evolve To Evolve a Relic you will need to obtain the same Relic. Since there can't be two of the same, you can use it to Evolve the Relic you already have and upgrade their Skill effect.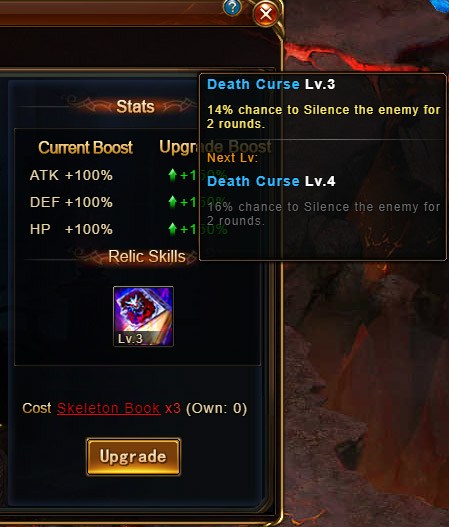 3. Equip In this interface you will be able to Equip your Heroes (and yourself!) with your Relics. There are eight slots for each Hero, they will open as you upgrade your Heroes' level. Make sure to Equip the Relics that make more sense for different types of Heroes!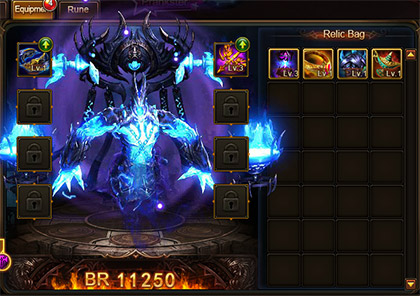 4. Rune You will find Runes challenging the Dragon Den. They can be used to socket into your Relics and make them improve their power. There are different kinds of Relics with different Stats, and you can upgrade them using Rune Dust. Obtain Rune Dust by dragging the Runes you don't need into the fire at the bottom of the interface.